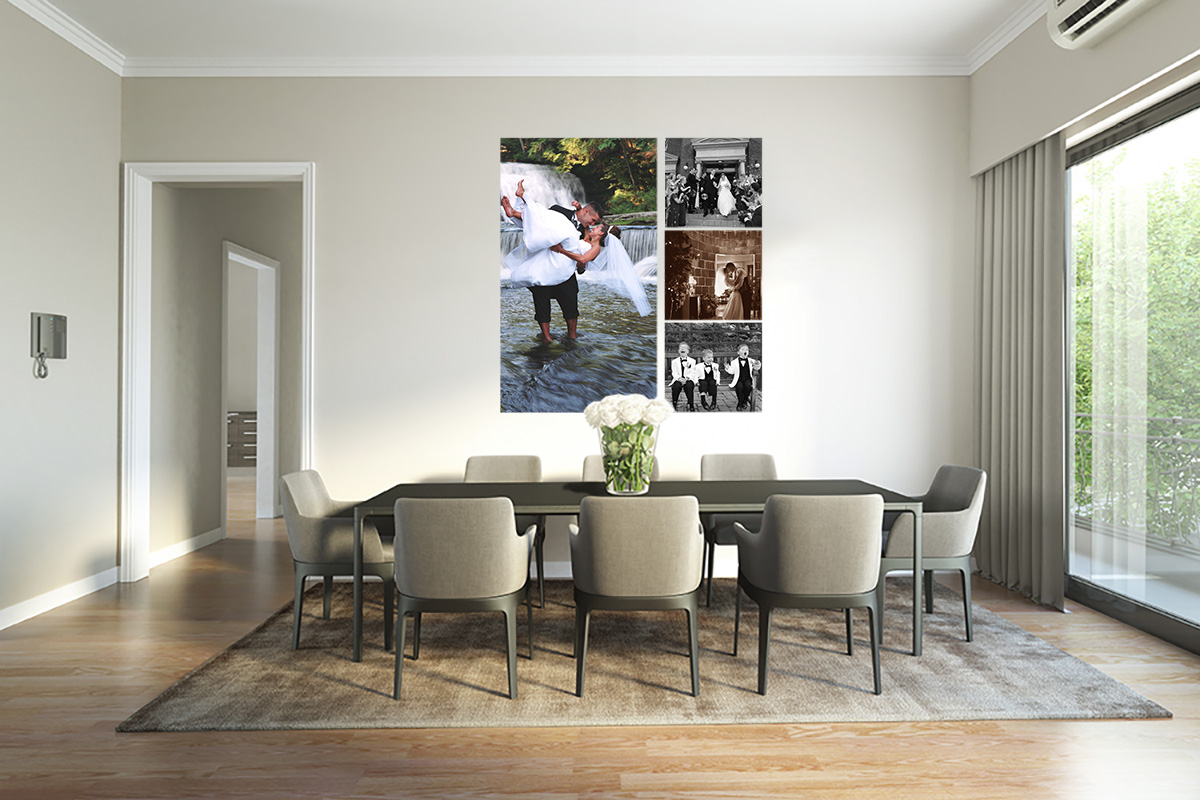 Take a step back and imagine yourself as a customer. Think of your house. Count the number of walls. How many of those walls are decorated, either with artwork, photographs, mirrors, clocks, or other hangable decor? Any interior designer will tell you that a blank wall can make a room feel empty or unfinished. And yet with such a diverse market, picking the right decor to fit your specific preferences or existing decor can be a challenge.
Now step back into your role as a photographer. Unless you're a not-for-profit that relies on donations, you most likely rely on portrait sales for success. For small business owners especially, a single hundred-dollar sale could mean groceries for an entire week. It could mean paying the electricity bill this month. This reliance on sales puts a heavier emphasis on selling more. But "more" can mean two different things:
A larger volume. For example: Ten $20 orders vs two $100 orders.
A larger package. For example: Ten 5×7 prints vs ten 5×7 prints plus one canvas print and a photo book.
Whether you love selling, hate selling, or fall somewhere in the neutral zone, optimize your sales initiatives by promoting items that naturally lead to a larger package. Remember those blank walls at your house? Imagine a stunning gallery wrap collection filling that space with your favorite memories. Now sell that feeling.
Turn Your Client's Favorite Photos Into A Gallery Wall
One might be better than none, but the more the merrier. A Canvas Gallery Wrap is a trendy item that continues to dominate the photo product industry, and for a good reason. It's a clean looking product. It's contemporary. It's ready to hang and easy to switch out. Plus the high-quality of our canvas and our expert production ensures a beautiful final product each and every time.
You take hundreds of photographs only to narrow it down to the best shots. Maybe you give your client ten photos. Maybe twenty or fifty. Asking a client to choose between these shots for one or two does you a disservice. Why limit your clients to a single canvas gallery wrap when you can offer an entire grouping?
Canvas Gallery Wrap Collections make a dramatic statement and highlight all the right moments. At Lenzart, we make it easy to customize these groupings to fit your client's needs by offering two methods for ordering:
Pre-Designed Collections. Choose from eight stylish groupings. Then pick a photograph for each size. This way clients don't have to worry about how to hang their canvases once they arrive.
Create Your Own Collections. Give your client creative license to design their own groupings to fit its intended hanging space. And at a special lower price!
Just like our Canvas Gallery Wraps, these collections are available with or without backing and hangers, and can be printed as an image wrap or with a colored border.
---
More from Lenzart
At Lenzart Photographic Lab, we strive to provide you with high-quality print products that showcase your photography in the best light. After your clients have picked their favorite photos and are ready to print, choose a print lab that puts you first, and choose Lenzart!