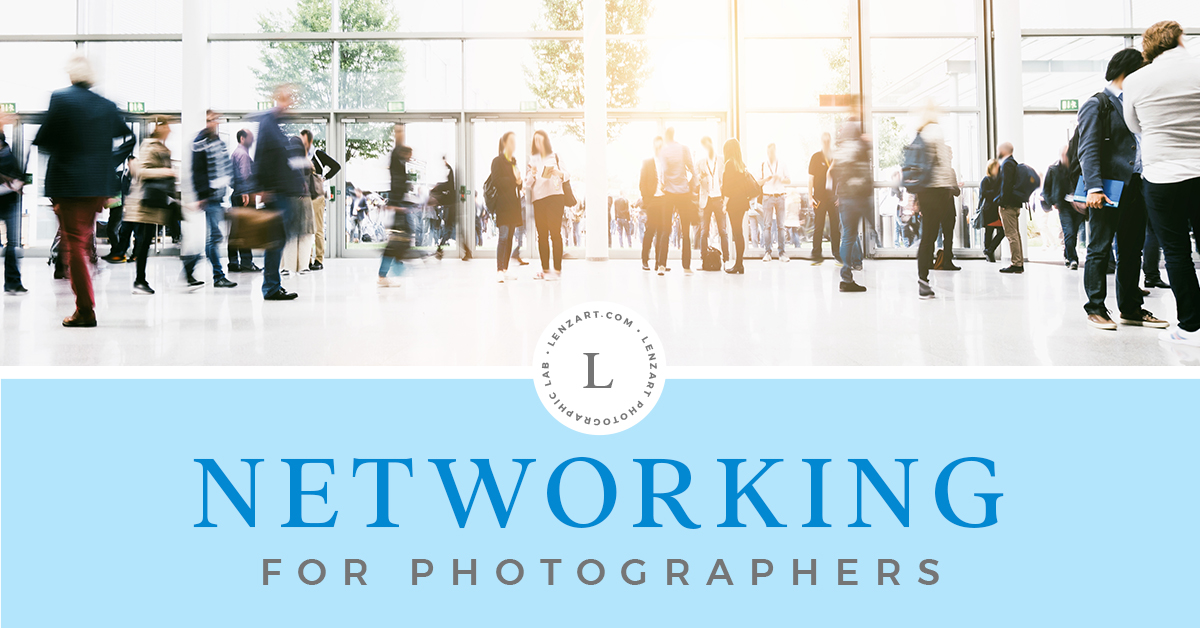 Networking is a low-cost way to market your photography business that can pay off exponentially. If you are trying to break into a high-end market, networking is a great place to start. People want to do business with people, so make a genuine effort to meet people and get to know them. For some, this part of the business will come naturally. They have the ability to "work the room" and can strike up a conversation with apparent strangers like they have known each other for years. For others, the idea of networking can cause a lot of anxiety. By simply having a plan for what you want to accomplish and then taking action, you, too, can network with success and find your way into this ever-growing business. Here are some tips for networking in the photography industry.
Where to Network
Success doesn't happen overnight. You have to take the time to build relationships with people. It may take six months or longer before you have the opportunity to work with other professionals, so why not start now? But how do you find people? The easy answer is to attend a networking event.  These events are easy to find if you live and work in a metropolitan area. If you live further from a big city, you may have to commute. Here are some ideas of where to find great networking opportunities in your area.
Chamber of Commerce
Local business owner groups
Local artist groups
Local SmugMug/Pug groups
Local Facebook Groups
How to Network
Prepare
Before going to your first big event, you need to prepare. Do your research on who will be there and what their specialty is before showing up.  What industries and companies will be on the guest list? Will this event be useful to your career? Taking note of the crowd before going will give you the opportunity to devise a plan of attack, rather than walking around aimlessly having meaningless conversations.
Also, make sure you have a good supply of business cards and brochures. Choose highlights, like recent press or an interesting shoot you've recently photographed, that you can share when someone asks you about your company. Being prepared will make the stress of the event decrease by a lot.
Plan And Set Targets
What do you want to accomplish at this event? By setting goals, like meeting 5 new people, you can stay focused and make the most out of the function. One of the difficulties of being shy is knowing how to deal with overwhelming situations. By setting a target, you can structure your time around meeting your goal and focus less on how nervous you are.
Attending an Event
When at the event, it can be difficult to simply walk right up to a stranger and introduce yourself, but that's what you have to do. Don't waste a great opportunity by standing around. Even if you are new to the industry, being confident and friendly will easily make people want to talk to you. Meeting like-minded people should be fun, not frightening. Find what works for you, whether it be getting a cup of coffee and doing a lap around the room or jumping straight into networking.
When talking to people, know what makes you attractive. Decide on what areas you want to specialize in and what companies/people interest you. When holding a conversation, do not be modest. If you downplay your abilities, you will go unnoticed. Aim to find a voice that is assertive, but not overly cocky. Avoid shoving your portfolio in peoples faces and give people the opportunity to talk about their business. Building a relationship is a two-way street, so ask intelligent questions and take the opportunity to get to know them as well. You never know what you might have in common that could lead to a business relationship.
Follow Up
When the event is over, the worst thing you can do is not follow up with the new people you met. Doing nothing and hoping you meet them again in four months at the next event isn't a good strategy. Part of building a relationship is following up immediately and putting in time and effort. Call them the next day and invite them to drinks or lunch. Send them a handwritten note with your brochure and let them know you enjoyed meeting them and look forward to working together in the future. Reaching out and contacting someone you've recently met can be scary, but what is the worst that can happen? They say no or don't return your email. You don't lose anything by following up with a new contact.
Networking done right can be a great tool for growing your business. Remember you are not going to these events to kill time. You are investing in a serious marketing strategy that can grow your business and turn first-time contacts into long-term business relationships.